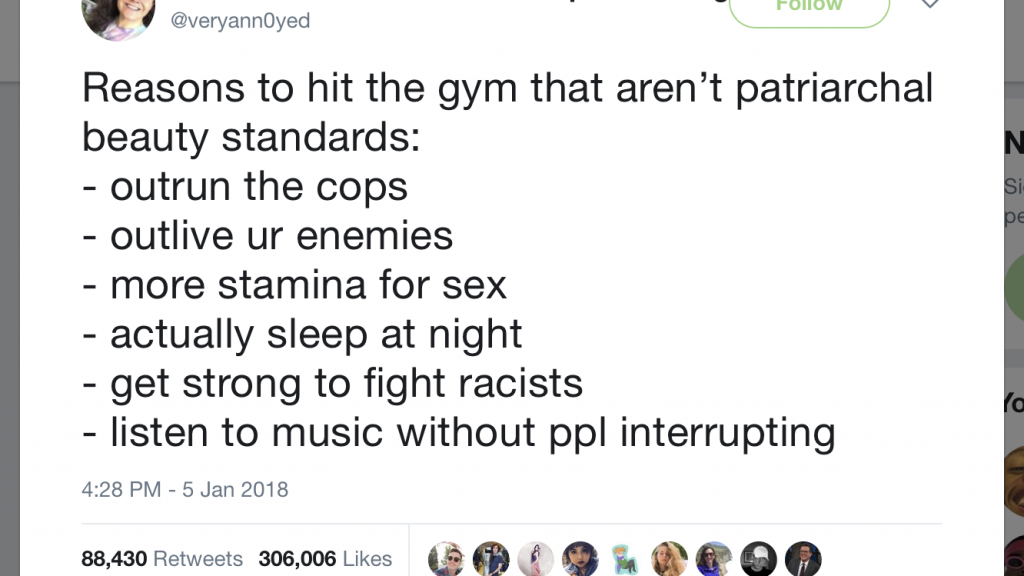 Whose Gym? Our Gym! – Benefit Lunch for Self-Organized Gym
Suomeksi alla
Time: Sunday February 18 from 12 pm till food lasts (check our social media)
Place: Lymy (Pengerkatu 6, street level space in the middle of the block, Helsinki)
Price: 15-1000€ (everything vegan, gluten-free options)
Menu:
– mexican style lentil soup
– bread, nachos, blackbean spread
– quesadillas, seitan chorizo or spicy tofu, salad
– hibiscus drink
– chocolate cake with coffee or tea
We have rented a 300-square-foot garage in Helsinki to be used as a self-organized exercise space. We collect monthly membership fees to cover the rent and with the proceeds from this brunch we'll build a shower and buy exercising equipment. In the long run, we aim to make our completely member-run gym as similar as possible equipment-wise to a commercial gym.
The space will try to actively work against discrimination. In practice this means that the shower, bathrooms and changing spaces are not gender-segregated and that we try to make the space a safer space by setting the ground rules together and seeing to that they are not violated. If users wish to, the space can be used for separatist events with different criteria.
Our monthly membership fee (which entitles to unlimited access excluding loud training between 10 pm and 8 am) is preferably at least 20€ plus a cleaning shift twice a year and taking part in work parties every now and then. You can become a member by recommendation of a current member and/or through attending one of our public events. Members may bring their friends to try out training at the gym. Membership can be revoked if other users of the gym think it is required to for example uphold the safer space principles.
If we're already paying to exercise, why not use this money toward our own exercise space, instead of some outside company's?
Our Gym working group
Lymy's accessibility info:
The space is not wheelchair accessible, there are steps leading (downwards) into the space and three steps up to the toilet. The toilet is quite small, the door to the space and to the toilet are quite narrow. We ask that everyone who enters the space not assume consent for anything from anyone, including being photographed.
___________________________
Kenen sali? Meidän sali! – tukilounas itsejärjestäytyneelle kuntosalille 18.2.
Aika: sunnuntaina 18.2. alkaen klo 12 – kunnes ruoka loppuu (päivitetään someen)
Paikka: Lymy (Pengerkatu 6, katutason liiketila, Helsinki)
Hinta: 15-1000€ (täysin vegaaninen, saatavilla gluteenittomana)
Menu:
– linssikeitto meksikolaisittain
– leipää, nachoja, mustapapulevitettä
– quesadillat, seitan chorizo tai mausteinen tofu, salaatti
– hibiscus-juoma
– suklaakakkukahvit/-teet
Olemme vuokranneet Helsingistä 100m2 liikuntatilan, johon tulee mahdollisuus kuntoilla ja harjoitella tilassa, jossa pyritään torjumaan kaikkia syrjinnän muotoja. Katamme vuokran kuukausimaksuilla ja mahdollisilla tuilla ja pyrimme tällä brunssilla keräämään rahaa muun muassa suihkun rakentamiseen ja kuntoiluvälineiden hankintaan. Pitkällä tähtäimellä pyrkimyksemme on tehdä kuntosalista varustelultaan mahdollisimman pitkälti kaupallisia kuntosaleja vastaava.
Käytännössä syrjinnänvastaisuutemme tarkoittaa tällä hetkellä suihkua, pukeutumistiloja ja vessoja joita ei ole eroteltu sukupuolen mukaan ja yhdessä turvallisemman tilan periaatteiden muotoilemista ja niiden toteutumisen valvomista, sekä sitä että kuntosalilla saa halutessaan järjestää eri kriteerein separatistista toimintaa.
Kuukausijäsenyys (rajoittamaton käyttöoikeus, 22-08 välillä ei äänekästä treeniä) maksaa mielellään vähintään 20€ ja sisältää siivousvuoron kaksi kertaa vuodessa ja toivomuksen osallistua silloin tällöin talkoisiin. Jäseneksi tullaan jonkin nykyisen jäsenen suosituksella ja/tai julkiseen tapahtumaan osallistumalla. Jäsenet voivat tuoda kavereitaan kokeilemaan kuntosalia ilman erillistä maksua. Jäsenyys voidaan perua jos tarpeeksi moni salin muu käyttäjä näkee sen tarpeelliseksi esimerkiksi turvallisemman tilan periaatteiden toteutumisen kannalta.
Jos kerran harrastamme jo muutenkin maksullista liikuntaa, miksemme suuntaisi niitä rahoja omaan liikuntatilaamme, jonkin ulkopuolisen yrityksen sijaan?
Meidän sali -työryhmä
Lymyn esteettömyystiedot:
Tilaan ei pääse pyörätuolilla, sisään laskeudutaan ja vessaan noustaan portaita pitkin. Vessa on pieni ja ovet vessaan ja tilaan ovat kapeahkot. Toivomme että tilaan tulevat eivät oleta suostumusta keltään mihinkään, mukaan lukien valokuvattavaksi tulemiseen.